Article #4 : A tribute to Steve Jobs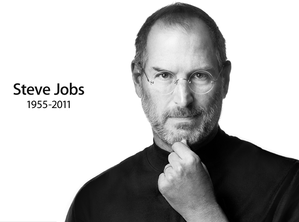 Why was Steve Jobs a great manager?
Please excuse me for the delay, dear followers, but as promised, here comes the article that I hope will convince you (if you are not already) that Steve Jobs was a great manager. I'm not a huge fan for myself but I can't deny that Apple's former CEO was a masterpiece of a man.
Few managers in the world can say they have a status like Steve Jobs. I believe his strength came from his boldness, his experience, his laid-back attitude and his ability to motivate and inspire his employees. Unlike other managers, Steve Jobs did not only want the public to use Apple's products but also wanted people to love Apple as a brand so that they would do what's best for Apple, not what's best for them.
Steve Jobs always complimented his employees on their work. You can hear it in every single speech he made during his lifetime : Apple's fomer CEO NEVER said "I did this or that" or "I wondered and I thought" BUT he ALWAYS said:"we" or "The company, Apple, came up with this great idea". This ability to share his success and compliment his employees made him a great manager. Therefore, I can continue with another quality which makes him a great manager: He was "the boss" but behaved like a peer. Of course, when you think about Apple, the first thing that comes up to your mind is the name of Steve Jobs but if you get an inside view of the company, people from Apple will tell you that this man was casual, calm and able to stay fun and have a great sense of humor, especially during a crisis.
Then, despite his cancer, Steve Jobs, instead of giving up, fought until the end. Appple's former CEO taught the toughest and most painful lessons you'll ever learn. In 2005, he gave a speech at Standford's graduation ceremony. He talked about his desease and made the fear of dying sound good. You have to admire that! This cancer made him stronger because everyday, he woke up and asked himself if he liked what he was about to accomplish during the day. He presented his knowledge of death as a strength that helped him making huge decisions. This philosophy led him to give the following advice to Stanford's Graduate School students: "Stay hungry, Stay foolish" (and this is also the advice I'm giving you guys).
Thanks to his sense of humor, his attitude, innovative ideas, recognition for his peers, stubborness and perseverance, Steve Jobs has been one of the greatest managers (if not the greatest) of the 21st century.
He was a masterpiece man and will be remembered as a legend who revolutionized the conception of life and management practices.
Roy Rizk
English Track Group B